As the old saying goes, the eyes are the window to the soul. But they can also be the window to your health.
A comprehensive eye exam is much more than checking how well you can see. With modern diagnostic equipment, your optometrist can look for early signs of disease. By inspecting the blood vessels visible at the back of your eye, an eye exam can even detect diabetes.
And if you or someone in your family has been diagnosed with diabetes, you should inform your optometrist so we can pay special attention to your ocular health with a diabetic eye exam. Diabetes can cause vision loss, but the Centers for Disease Control and Prevention (CDC) suggests about 90% of diabetic vision loss can be prevented with proper treatment.
What Is Diabetes?
Diabetes is a chronic disease that affects your body's ability to control blood sugar (glucose) levels. Depending on the type, your body may make little or no insulin, a hormone that helps convert glucose into energy for your cells.
Symptoms of diabetes include:
Increased thirst and urination
Unexplained weight loss
Fatigue
Blurry vision
Slow-healing wounds
Tingling or numbness in hands or feet
Increased hunger
Over time, diabetes can damage your blood vessels. This can be a big problem for your retina, which is at the back of your eyes, because it is full of tiny blood vessels that, when damaged, could affect your vision.
Diabetes & Your Eyes
Diabetes comes in 3 common types: type 1 diabetes, type 2 diabetes, and gestational diabetes—which can develop during pregnancy. However, no matter what type you have, they can all lead to diabetic eye diseases if left untreated.
Diabetic Retinopathy
High blood sugar levels can cause the blood vessels in the retina to swell or leak. This condition is diabetic retinopathy, and over time it can reduce your vision, even leading to blindness.
Sometimes, diabetic retinopathy has no obvious symptoms until it reaches the later stages. When it does show itself, you may notice signs such as:
Blurred vision
A large number of floaters in your vision
Shadows or missing areas of vision
Difficulty seeing at night
Loss of central vision
Colors appearing faded or dull
Vision loss
Diabetic Macular Edema
Diabetic macular edema is a specific type of diabetic retinopathy that affects the macula, the part of the retina responsible for central vision. It occurs when fluid builds up in the macula, causing it to swell. This can lead to:
Blurred or distorted central vision
Difficulty reading or recognizing faces
Colors appearing washed out or faded
Since it's a type of diabetic retinopathy, it can also share symptoms with the general condition.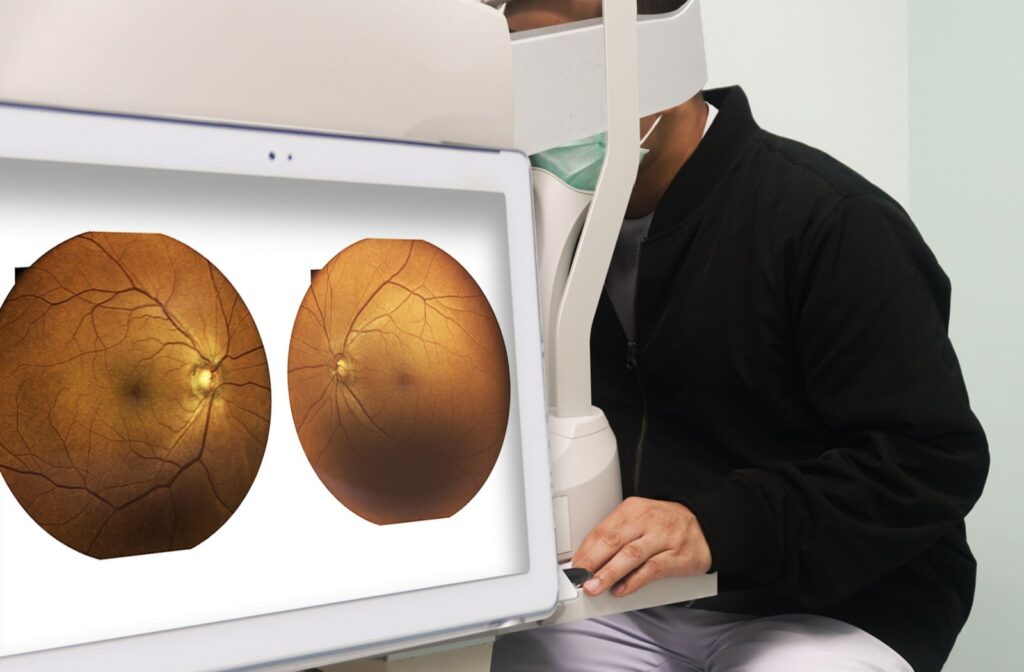 Other Diseases Eye Exams Can Detect
A comprehensive eye exam can detect more than just diabetes and diabetic retinopathy. During an exam, your optometrist can also watch for signs of other health conditions, including:
And, of course, your optometrist is on the lookout for signs of eye disease, such as:
Cataracts
Glaucoma
Macular Degeneration
In fact, diabetes can increase your chances of developing cataracts and glaucoma, which is why we recommend those with diabetes come in for more frequent eye exams.
How Can an Eye Exam Detect Diabetes?
Optometrists can use modern diagnostic equipment to inspect your eyes and identify health problems before they become too severe. Since diabetes affects the retina, your optometrist will need some way to look through the pupil, the lens, and the interior cavity to the back of the eye.
Fortunately, they have exams designed to do just this. Electroretinography (ERG), optical coherence tomography angiography (OCT-A), and high definition retinal photography are effective ways for your optometrist to inspect your retina.
ERG measures the electrical activity of the retina using noninvasive light flashes or patterns. By observing the electrical responses from your retina, your optometrist can look for abnormalities that may indicate diabetes, vitamin A deficiency, and other retinal conditions.
On the other hand, OCT-A uses light waves to create a detailed image of the blood vessels in the retina. In this way, your optometrist can see the changes in your blood vessels and look for changes caused by diabetic retinopathy, glaucoma, or macular degeneration.
High definition retinal photography takes an ultra-wide photo of the retina. This allows the optometrist to easily detect early signs of diabetic retinopathy.
Book Your Next Eye Exam with Family Vision Care
An eye exam can detect more than just vision problems. Family Vision Care offers diabetic eye exams to help manage your symptoms and identify possible problems.
If you or someone in your family has diabetes, and it's been a while since a professional checked their eyes, book an exam with us today! We have convenient locations around the greater Pittsburgh area.