Macular degeneration, also known as age-related macular degeneration (AMD), is a common age-related degenerative eye disease that primarily affects the macula. It doesn't typically result in blindness, but it can eventually result in central vision loss.
Early warning signs of AMD could include trouble with low-light vision, colors not being as bright or vivid anymore, and vision becoming blurry.
But it's important to note that depending on the subtype of AMD, symptoms may not be noticeable right away. For this reason, it's very important to see your eye doctor for recommended eye exams, every 1 to 2 years, depending on age and eye health.
What Is Macular Degeneration?
AMD is the leading cause of vision loss in older adults. The macula is responsible for providing sharp central vision, and with age, can degenerate and become damaged. Although it won't cause total blindness, central vision loss can make it difficult to do activities such as driving, seeing faces, and reading.
Wet & Dry AMD
There are 2 types of AMD, wet and dry. The first, and most common, is dry AMD—or atrophic AMD—which has 3 stages, early, intermediate, and advanced. During the early stage, you will likely not notice any symptoms. In the intermediate stage, many people still won't notice symptoms. But if you do, it may be some mild blurriness or trouble with low-light vision.
Advanced AMD, regardless of what type it is, typically has the most symptoms, including wavy or crooked-looking lines, large blurry areas or blank spots in your vision, and bright lights becoming dim. Vision trouble may increase in low light.
Wet AMD, also known as advanced neovascular AMD, is a less common form of the disease. Dry AMD can turn into wet AMD at any stage of its progression. And when it does, vision loss typically occurs much faster.
Signs of Macular Degeneration
There isn't a one-size answer for what the early signs of AMD are because everyone can experience symptoms a little differently. Plus, many people don't notice any symptoms during the early and sometimes intermediate stages of the disease.
Symptoms of AMD you may notice could include:
Blurry or fuzzy central vision
Bright lights becoming dim
Trouble with low-light vision
Trouble with near vision tasks
Keep in mind, these are symptoms you may notice. When your doctor performs a comprehensive eye exam, they may notice signs you don't. For example, drusen are tiny yellow deposits that accumulate in the retina. Their presence is a common early sign that AMD is developing.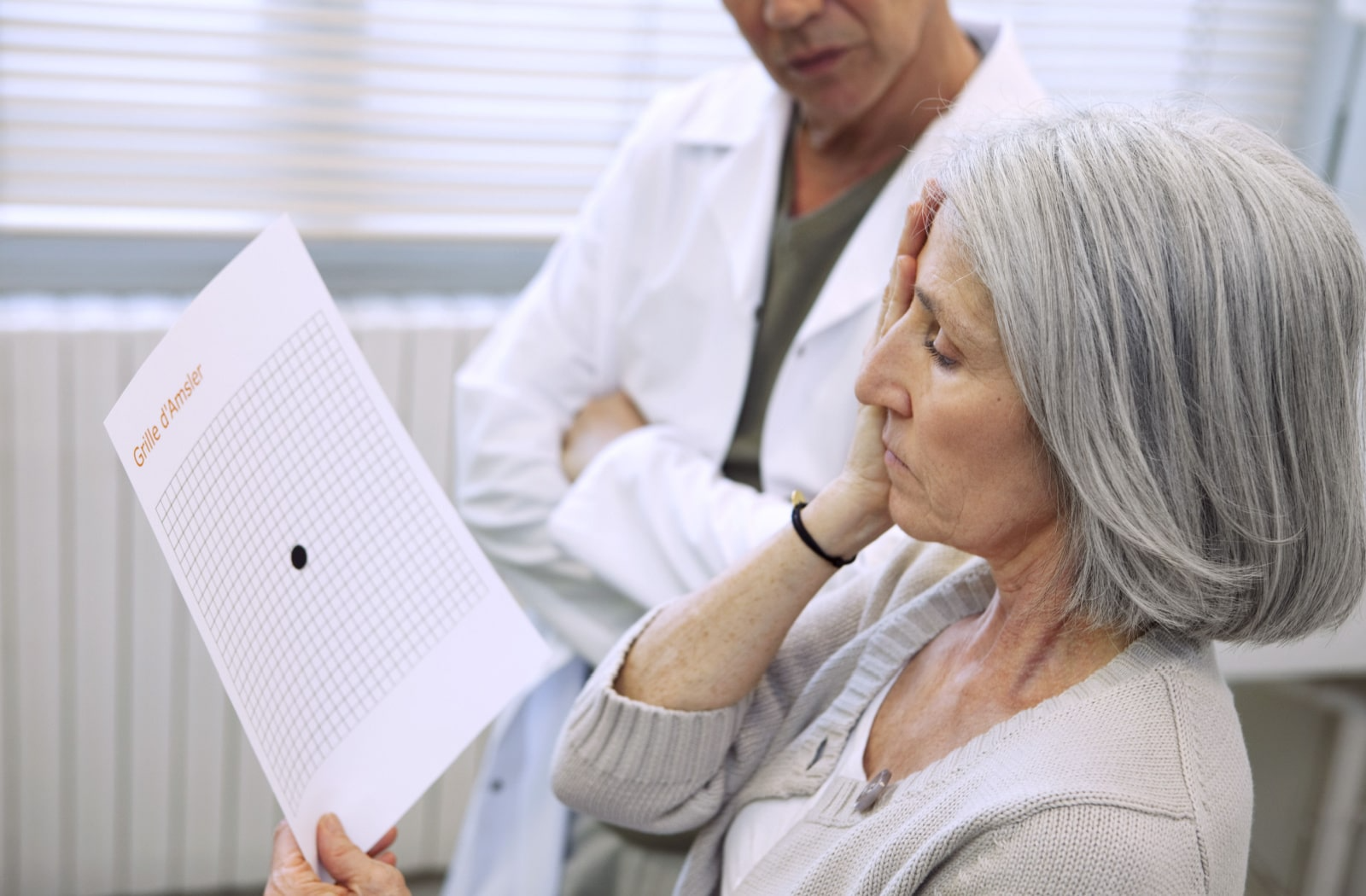 Treating Macular Degeneration
The treatment your eye doctor recommends is typically determined by the stage and type of AMD because of its progressive nature.
Treatment for Dry AMD
There really isn't a treatment for early AMD. If it's detected by your optometrist, they can diagnose it and keep track of its development. They will likely recommend taking an eye vitamin or supplement with antioxidants in it specific for macular health. These supplements won't prevent progression but can help slow progression into intermediate/advanced AMD. Wearing sunglasses to protect the eyes from UV light is also very important in slowing AMD progression. They may also recommend you see them more frequently to help keep track of the disease.
Treatment for Wet AMD
While late AMD is the most advanced form of the disease, there are a couple of potential treatment options you can discuss with your eye doctor. Anti-VEGF injections are one of the most common treatments. Unfortunately, they are only effective for the short term, so it's an ongoing treatment.
Photodynamic therapy is another good treatment option. It makes use of a special light-sensitive medicine that activates when it's struck by a laser. When this medication begins working in your macula, it can break down blood vessels that are affecting your vision.
Preventing Macular Degeneration
There isn't a magic bullet for preventing AMD, but there are certainly a few things you can do to minimize your chances of developing it. Plus, many of these options can be beneficial for your body in other ways too:
Quit smoking
Eat a healthy, balanced diet
Lower your cholesterol
Lower your blood pressure
Get regular eye exams
Discuss Your Eye Health with Family Vision Care
There's no reason to spend your life living in fear of developing a problem with your eyes or vision as you age. It's simply a matter of taking the best care of your body possible. This includes regular visits to your eye doctor, eating a healthy diet, and staying active throughout your life.
If it's time for your next eye exam, reach out to us today! The professional team at Family Vision Care is happy to answer your questions and schedule you to see one of our optometrists.
We have three locations near Pittsburgh to assist you: Baden, Cranberry and Mt. Oliver.